Regular price
$56.00
Sale price
$46.00
Unit price
per
Sale
Sold out
Tooth Restore is a supplement targeting essential minerals and rich fat-soluble vitamin activators that are left out of the modern diet to strengthen the teeth and bones through natural remineralization.
Less than $1.9 a day to support your teeth for life!
Also available on Amazon if you prefer: 👉🏼 Buy now on Amazon
View full details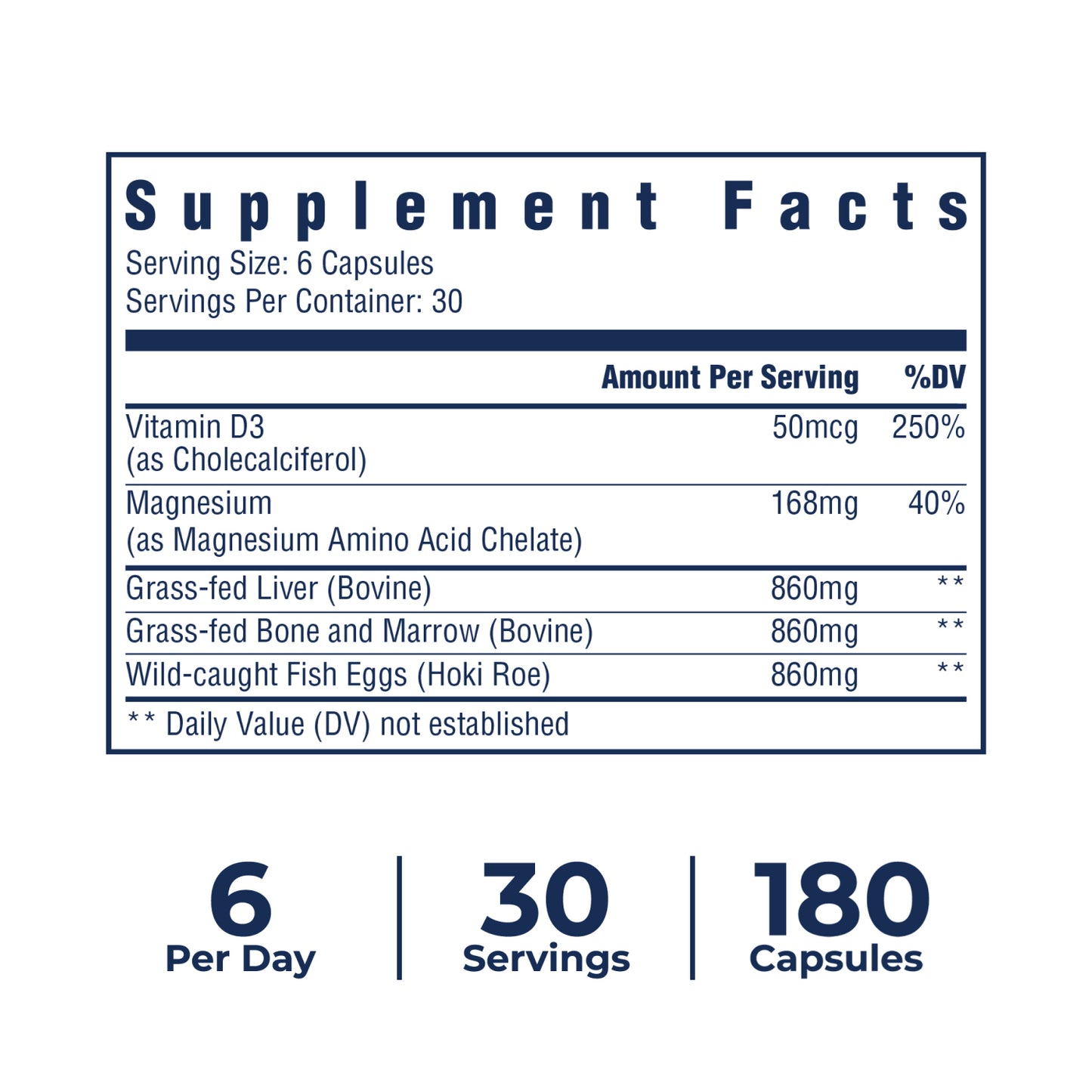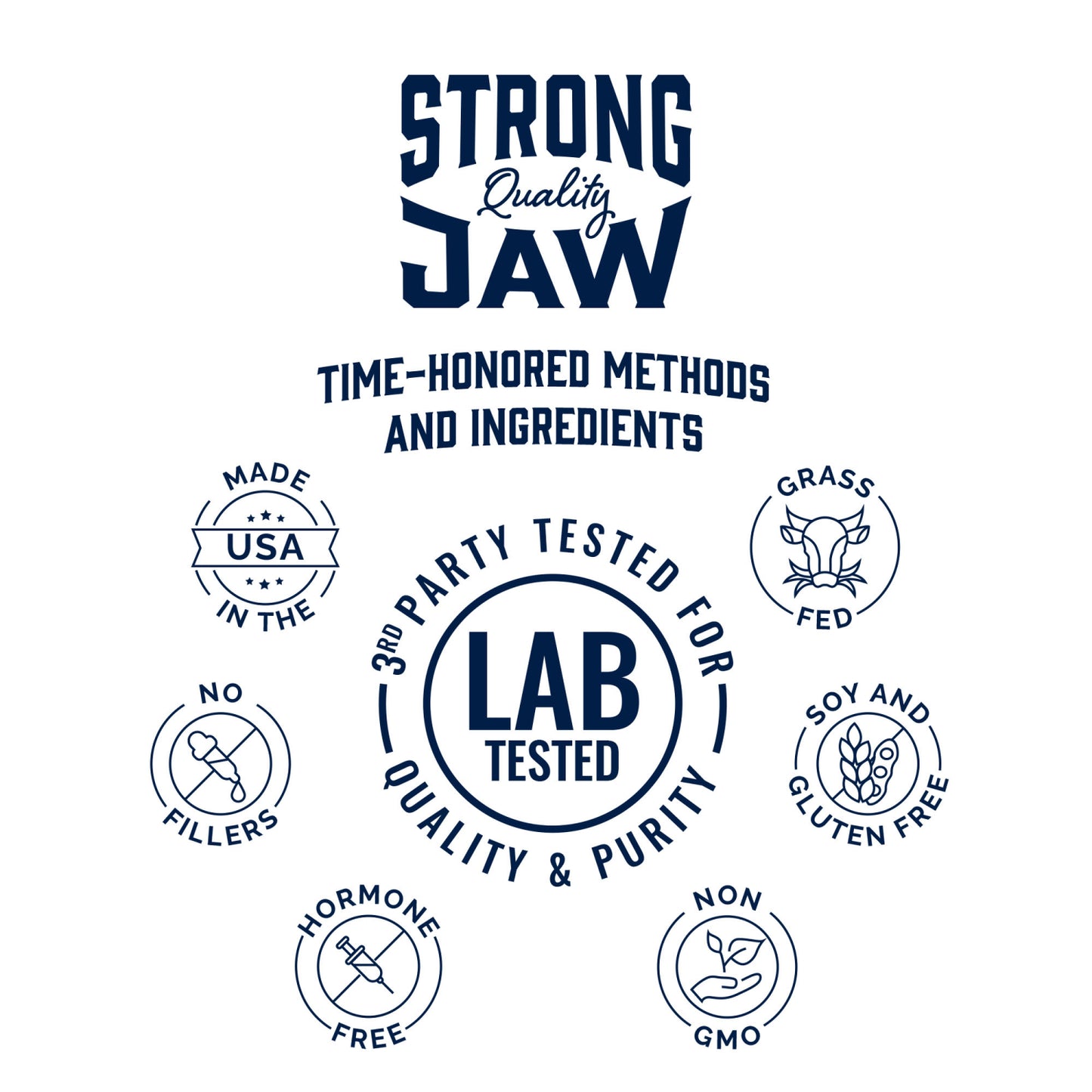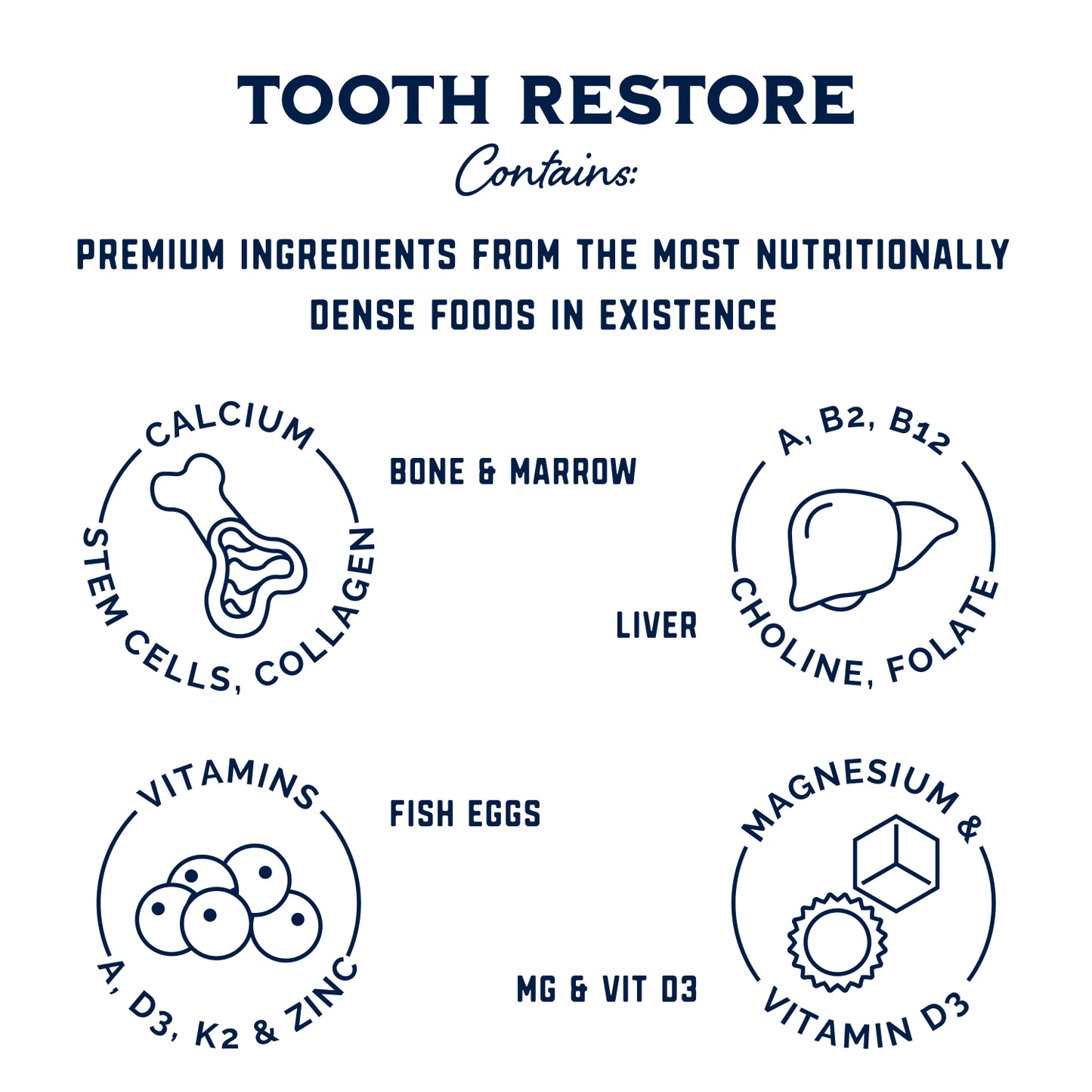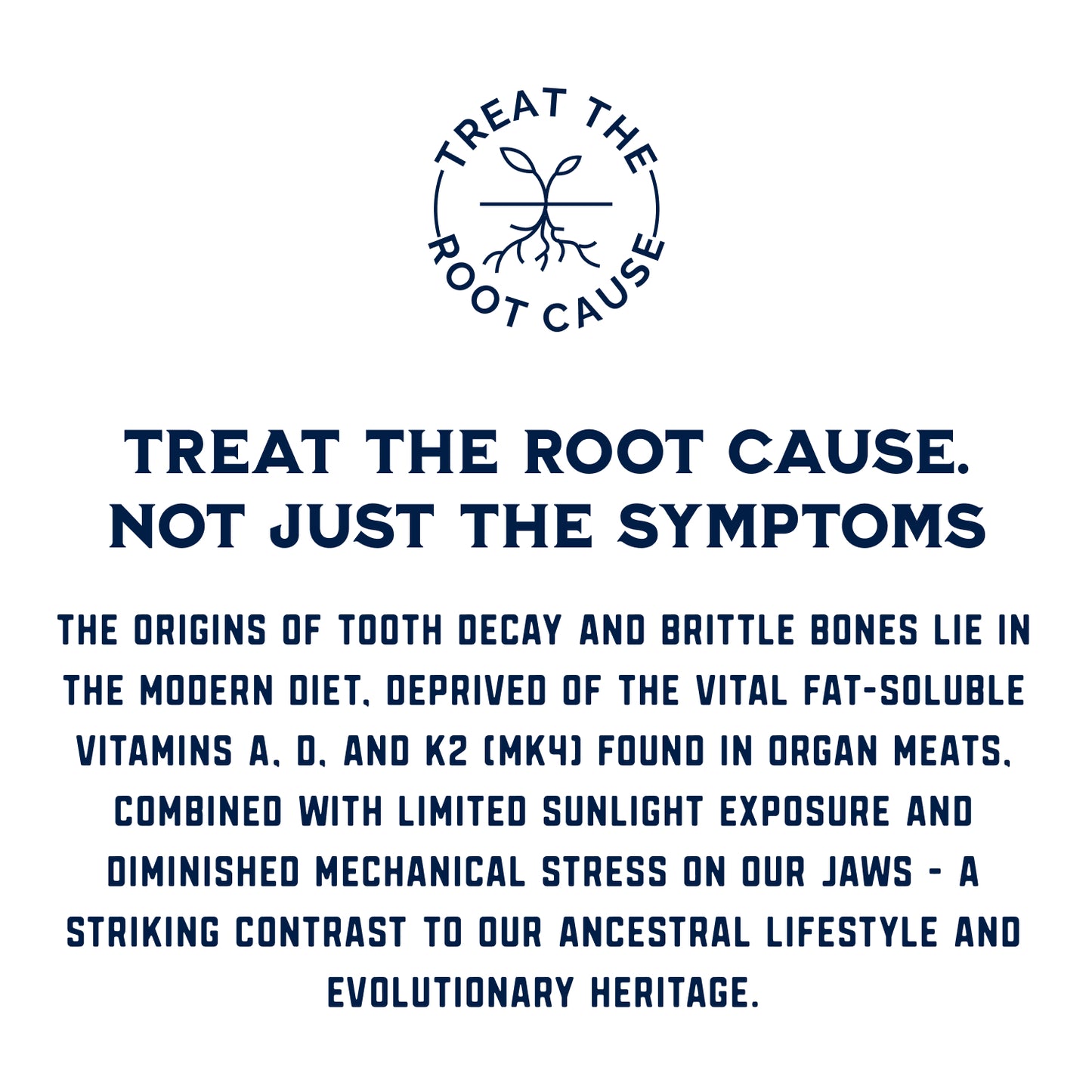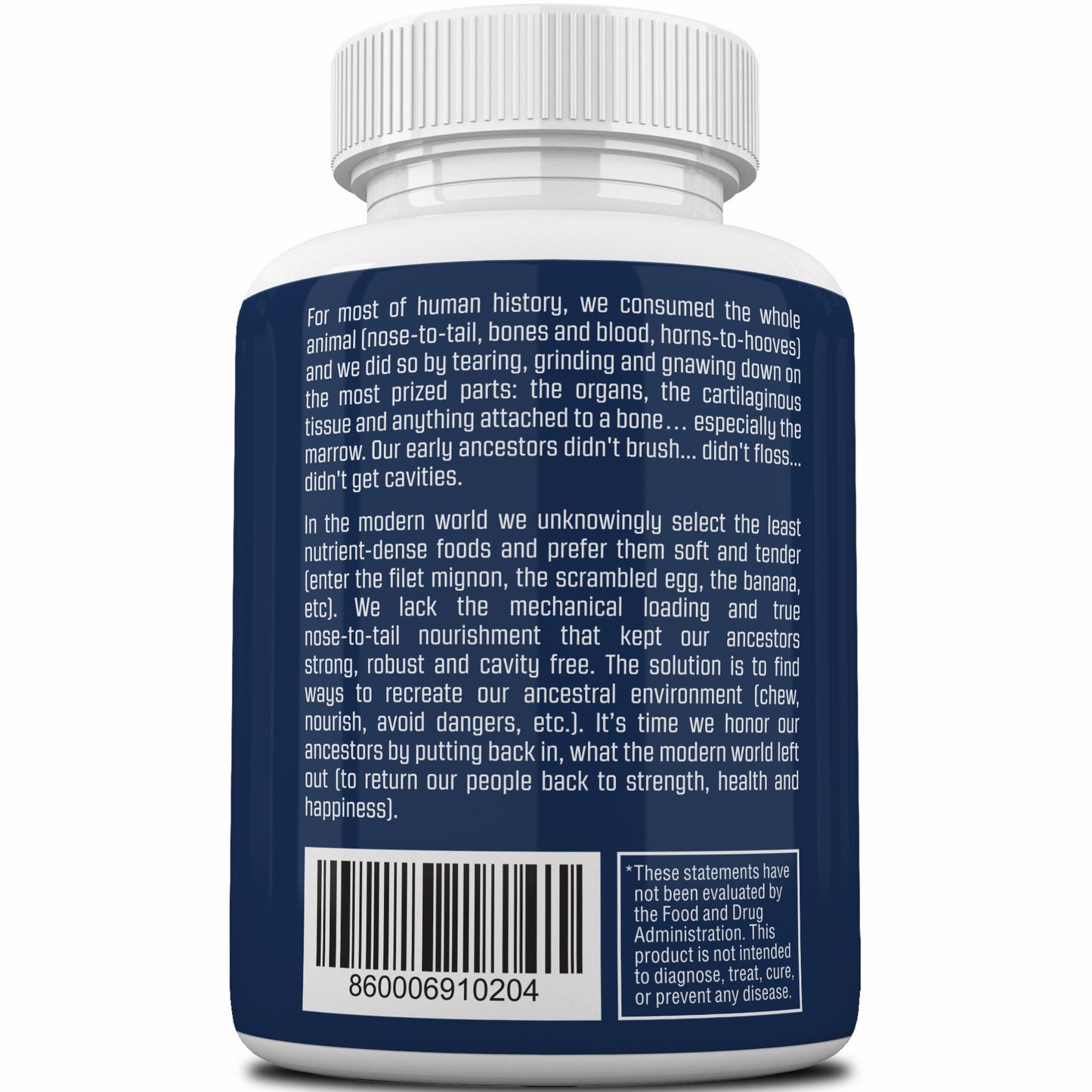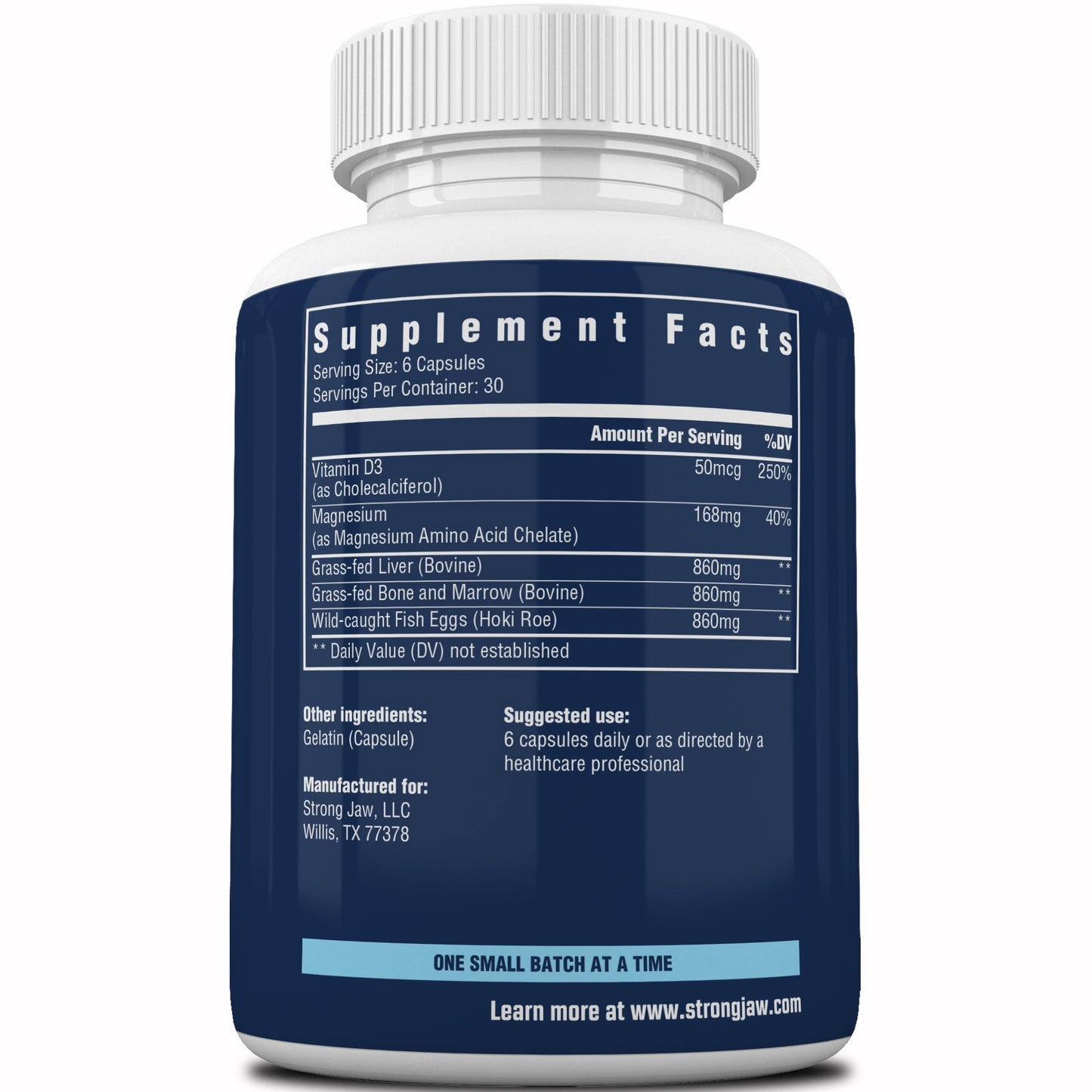 Here's the details.
How it works

Remineralization occurs when calcium and phosphate in healthy saliva are introduced to the enamel coating of teeth. Balanced Ph (acidity) is required for a chemical bond that transfers these minerals deep beneath a tooth's surface. If saliva, Ph, or any essential minerals are out of balance, that opens us up for tooth decay and excessive sensitivity.

Tooth Restore repairs the root causes of tooth decay on the molecular level by providing the nutritional foundations for healthy saliva, balanced Ph, and essential minerals, along with the fat-soluble vitamin activators required for absorption and remineralization.
Bioavailable & High Quality

Our nose-to-tail product line is always from grass fed and inspected animals raised without the use of pesticides, hormones or antibiotics.

Freeze-drying preserves the heat-sensitive vitamins.
Ingredients

Wild Fish Eggs are full of fat-soluble vitamins A, D3, E, and K2 (MK4), plus the essential fatty acids DHA, EPA, and ETA to nourish and support healthy teeth, bones, brain, digestion, and your cardiovascular system.

Liver holds the nutritional keys to holistic health since it is rich in vitamins A, B2, B12, D3, choline, folate, COQ10, and many of the micronutrients modern people are the most deficient in.

Bone and Marrow contains specialized cells (including stem cells and base cells), collagen, growth factors, and fat-soluble vitamin activators the body uses to build, repair, and maintain itself.

Vitamin D3 is the fat-soluble activator essential for dental health, bone growth, controlling the immune system, brain development, and maintaining cardiovascular health. The best sources of D3 are sunlight, animal organs, fatty fish, and raw cheeses, which is why many people today are perilously deficient When you don't have enough D3 the body cannot direct calcium or phosphorus to remineralize teeth and bones, no matter how much of these essential minerals you consume.

Magnesium is required for the production of all proteins, including those that interact with vitamins A and D3. It is critical for bone development, enzyme synthesis, carbohydrate metabolism, regulating your nervous system, and muscular function. Magnesium directly interacts with calcium and vice versa, so it must be kept in the proper ratio for the body to function properly. Too much of one mineral over the other will cause a deficiency to occur.
Pure

Absolutely NO fillers (or) flow agents
Absolutely NO pesticides, hormones or antibiotics.
No allergens (other than Fish Eggs from Hoki fish)
Feel the difference
"If you are concerned about tooth decay or cavities and want to remineralize the enamel that forms the protective outer layer of your teeth - Tooth Restore is the right supplement to start with."
Our products are pasture raised in New Zealand and Australia.

Proudly made right here in the USA.

Contains fat-soluble vitamins you need for Strong Teeth.

Absolutely NO fillers. Only what's on the label.
Pairs well together 🤝🏼
Regular price

$54.00

Sale price

$44.00

Unit price

per

Regular price

$56.00

Sale price

$46.00

Unit price

per
Total 5 star reviews: 26
Total 4 star reviews: 0
Total 3 star reviews: 0
Total 2 star reviews: 1
Total 1 star reviews: 0
96%
would recommend this product
Customer-uploaded media carousel. Press left and right arrows to navigate. Press space or enter to open more details.
Slide 1 selected
Burgs

Verified Buyer

Glad I finally Decided to Buy

I had been eyeing the Tooth Restore supplement for quite some time before finally deciding to try it last month. Admittedly, I've always been wary of supplements due to past experiences. Stimulants especially are hit or miss for me, given my high caffeine tolerance. Seeking guidance, I reached out to Drikus, the company's owner. True to the reviews, his customer service is exemplary. He patiently addressed all my queries, even those unrelated to his products, offering valuable insights.

My curiosity got the better of me, and I added both the tooth restore and gum restore supplements to my regimen, taking 4 daily. The result? It's like recapturing that childlike smile I once had, a feeling I thought I'd lost. My teeth are stronger, they don't ache, and my gums are definitely growing back. It was a magical moment of realization for me that gums like skin tissue can regrow.

Additionally, I've found that both supplements have positively impacted my joint health, energy, mood and brain fog as a side bonus. The joint pain I had from running, a femoral acetabular impingement, has become notably less bothersome.

If you're on the fence about trying this product, I'd recommend reaching out to Drikus. The investment is minimal considering the potential uplift in your daily life. For further reading, delve into Weston Price's findings. I came across his work in the book "Healing Tooth Decay" and it's a treasure trove of information.

Gina B.

Verified Buyer

Today I claim a victory!

I am a woman in my early 60's and have always been proactive in my dental health. My dentist told me at my last visit that gum and teeth issues where starting to show. Gums receding and bleeding and softer teeth, more sensitive to cold. They gave me a rinse for the bleeding called Peridex. It turns out I am allergic to chlorhexidine which is a main ingredient of Peridex. Ugh. We tried Paradontax toothpaste $$ but after 6 months did not seem to help. I was so excited to try Strong Jaw Tooth and Gum restore as I have been an Ancestral Supplement client for years now. In the few weeks I have used them my gums have stopped bleeding upon brushing and flossing and the sensitivity to cold has vanished. Not to mention the added source of vitamin, minerals and bone marrow to a body that is slowly aging. I'm not going down without a fight! Thank you Ancestral Supplements for once again providing a superior product.

MCT

Verified Buyer

Tremendous product!

This product has been tremendous! I have a history of some pretty significant dental issues. Not 10 years ago actually had toothpick cracked in half at the time I thought it was due to stress and the fact that I cry my teeth. However, I've come to realize that it's more to do with not having adequate nutrients available. It's never really discussed, but I've come to learn that your teeth are living in need nutrients just like your other tissues do you know to stay healthy. Just went to the dentist the other day he said my teeth look amazing!

CD

Verified Buyer

Take back control!

This product is like nothing else on the market…all I've ever heard about dental health is brush, floss, professional cleaning, repeat…and that's all the control you have over oral health. Aside from that, just hope and pray that you don't need a root canal or worse! This never quite made sense to me though…so when I started to read about how our ancestors had incredibly strong teeth and jaws that could be directly correlated with their diets, I was beyond intrigued. Our food is 'supposed' to be nourishing enough to support our ENTIRE bodies, including our teeth and jaw!! Love how my teeth feel more resilient (less sensitive?) since starting this product along with a legit difference in energy throughout the day (what a bonus!:)

Sarah

Verified Buyer

REMINERALIZE, STRENGTHEN, LESS DENTIST TRIPS!

Another product from Strong Jaw that just makes sense. Protecting our dental health should be a priority more people focus on, especially from a preventative perspective. Good news...Strong Jaw did the heavy lifting for us...all we need to do is take these dang capsules and let the regenerative magic happen. Prevent tooth decay and enjoy the other benefits of Tooth Restore!
Reviews Loaded
Reviews Added